Julia Curry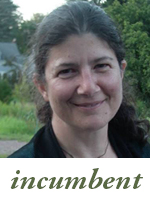 Why would you like to serve on the Board of Directors of the Onion River Cooperative?
I've really loved my first term on the City Market/Onion River Co-op board, and I am full of ideas and energy for building on the board's work of the past three years.
Our co-op makes huge contributions to our community and is on a path to extend our impact still further. And the high respect and trust between our board and General Manager enable us to really get thoughtful and creative together. Having learned the fundamentals of this complex business and the nuances of our board approach to governance, I feel well equipped to help us reach our potential for growth and the even deeper realization of our member-owners' values. It's rewarding to use my experience as an advisor to other cooperatives, my knowledge of the Burlington community, and my commitment to values of economic democracy for our co-op's benefit.
The work of the Board is not operational- that is, it does not deal with the daily operations of the store. Instead, the Board deals with the overall policies that identify and guide the mission of the Cooperative. How will you stay focused on the larger vision, without being distracted by the day-to-day operations of the store?
Maintaining this line is a skill that my work life helped prepare me for. The board plays a unique role: we represent the members as a whole, and we do so as a partner to the staff and General Management on the levels of strategy and accountability. For us to be useful to the co-op, we need to stick to that role. I mainly do this by using my meeting preparation time to direct my thoughts and questions to those levels, and I remind myself that if an operational thought feels that compelling, I can always drop a note at the service desk.
What strengths and skills would you bring to the work of the Cooperative's Board?
I bring a mix of experience and values that is quite well suited to serving on the ORC board. I have long experience with business principles, legal concepts and financial analysis. At the same time, my work in union and community organizing and cooperative development has always been to build organizations that let people gain more control over their lives and deepen their humanity. And even though I sound really stiff and maybe a little pompous here, I can be funny now and then.