Joanna Grossman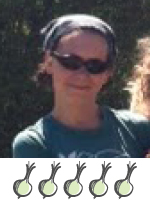 Why would you like to serve on the Board of Directors of the Onion River Cooperative?
I'm interested in keeping our food system ethical for farmers, animals, workers, and consumers. I work for the Vermont Agency of Agriculture, Food & Markets and I'm a working cooperative member of the Intervale Community Farm as additional means to that end.
- I enjoy volunteering with the community, working on projects I know will be valuable, and doing so with people I may not have the opportunity to meet otherwise.
- I  do a lot of DIY style food projects with my family (twogirlsintheweeds.wordpress.com). I learned many of them from the co-op's amazing education programs. I'd be glad for the opportunity to give back and ensure that those opportunities continue. I believe that learning to make-it-from-scratch is an intensely valuable, healthy, and enriching set of skills that should be accessible to all.
- I have been a vegetarian for 25 years and there are currently no vegetarians on the City Market Board of Directors. While I accept that there are many kinds of ethical food choices, I would like to be able to represent the sizable vegetarian and vegan community in Burlington, on the board.
The work of the Board is not operational- that is, it does not deal with the daily operations of the store. Instead, the Board deals with the overall policies that identify and guide the mission of the Cooperative. How will you stay focused on the larger vision, without being distracted by the day-to-day operations of the store?
I think that focusing on the mission would be accomplished by connecting with the community, and relevant body of literature and ideas. I can be most the helpful, and I have the most experience to bring to the table, in examining the possibilities and services of the co-op. I believe that the store operations, such as the inventory and staffing, for example, are far better managed by the talented and seasoned professions who currently do this.  
What strengths and skills would you bring to the work of the Cooperative's Board?
- I'm the mother of a 3-year-old in Burlington and teaching her the importance of food, food systems and food ethics.
- I'm a vegetarian and I'm familiar with challenging dietary needs.
- I work for the Vermont Agency of Agriculture, Food & Markets and thus have a strong connection to the Vermont food system.
- I am a working and cooperative member of the Intervale Community Farm and this, along with my work, gives me some insight into the experience of Vermont farmers.
- I am a Geographer and Geographic Information Systems Specialist and have experience examining demographics, and similar data, and how they can be analyzed to make sure that services are well matched to community needs.
- I'm an experienced writer and project manager and can assist the board with staying organized with projects.