Community Outreach
City Market is a vital community partner to a variety of local organizations. The Co-op works to focus its partnerships and outreach efforts to programs that work to alleviate childhood hunger and that promote the sustainability of agriculture. Here is a sampling of some of the Co-op's outreach programs and our partners.
Donations & Sponsorships
City Market makes a variety of donations to local community non-profits for school functions, community fundraisers and citywide events. It is helpful for us to receive at least 30 days notice prior to an event for donation requests. Please review our donation policy (pdf) and submit our donation request form (Word document or pdf) to donations@citymarket.coop or snail mail to: Donations/Member Services, City Market, 82 South Winooski Avenue, Burlington VT 05401
Change for Local Non-Profits
City Market previously offered 5 cents back to customers for each bag they reused. In a survey of our members, respondents overwhelmingly agreed that rather than giving this money back to shoppers, we could all have a larger community impact by sharing the change with our local non-profits. Starting July 1, 2011, we began designating a local non-profit to receive the bag refunds each month.If you'd like your local non-profit organization to be considered for these donations, please review our donation policy (pdf) and submit our donation request form (Word document) to Allison Weinhagen or snail mail to: Allison Weinhagen, City Market, 82 South Winooski Avenue, Burlington VT 05401. Learn more.
City Market Sponsorships
City Market is proud to be involved with a variety of events and organizations in the Burlington area. Here is a sampling of where our sponsorship dollars have gone: Jazzfest, Vermont Businesses for Social Responsibility, Lake Champlain Regional Chamber of Commerce, Northeast Organic Farming Association (NOFA), Burlington Business Association, Burlington School Food Project, Vermont Woman's Expo, Boys & Girls Club of Burlington, Hunger Free Vermont (formerly the Vermont Campaign to End Childhood Hunger), Kids CAN Help Food Drive, First Night Burlington, Junior Iron Chef Competition, Vermont Business Expo, Way to Go Week, and Old North End Little League. Please contact Allison Weinhagen with any sponsorship requests and include our our donation request form (pdf). Please note that we plan out our sponsorships for each fiscal year well in advance (the 30 day notice for donations does not apply here); for additional information, please review our donation policy (pdf).
Events & Partners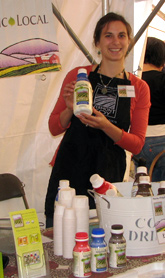 City Market Annual Harvest Celebration
City Market celebrates Vermont's annual harvest by gathering as many of our Vermont vendors and producers as we can fit into a tent and opening the doors wide to the community to celebrate not only the abundance of local food but also the people. For the past eight years, City Market's Harvest Celebration has grown to include the regional producers whom residents see at local farmers' markets, as well as up and coming vendors just breaking into the marketplace. "Seeing some different vendors that you don't see elsewhere," was a comment heard at a prior year's event. Community members enjoy this event because they can sample a variety of delicious local food for free, and perhaps even more important, because of the ability to put a face on the local vendors whose products line City Market shelves.
Chittenden Emergency Food Shelf
Each year, City Market donates over $10,000 in both in-kind donations and financial support to the Chittenden Emergency Food Shelf. In addition, the Co-op supports the Food Shelf with tear-off coupons at the registers. In fiscal year 2011, our customers donated over $32,000 to the Food Shelf with these coupons. We also maintain a donation box for shoppers and we send the Food Shelf any surplus items from grocery, produce and the deli. The Food Shelf truck picks up a load from us five days a week.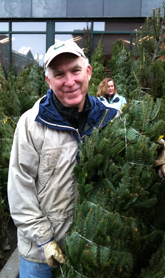 Committee on Temporary Shelter (COTS)
Each year in December, City Market has donated the proceeds from our annual Holiday Tree sale to the Committee on Temporary Shelter (COTS). The annual tree sale has been held at the Co-op for the past 13 years, bringing the total donation to over $60,000. City Market staff, Co-op members and community volunteers assist customers with trees throughout the sale. The fresh, local trees are delivered from Moffatt's Farm in Craftsbury and are sold for only $30. According to COTS, $18 covers a night of emergency shelter for an adult at the Waystation. $50 pays for two new backpacks and school supplies for two children in their family shelters.
Vermont Agency of Agriculture
Each spring at the peak of sugaring season, the Co-op hosts the Vermont Maple Board's maple sugar house and provides sugar on snow with donated syrup from our own Peter Purinton, whose syrup is featured in our bulk section. We also team up with the Department of Agriculture at the Champlain Valley Fair each August to provide cooking demonstrations utilizing local ingredients to showcase our connections to local farmers.
Bicycle Benefits Program
We love it when our customers ride their bicycles to the Co-op! We recently became a participant in Bicycle Benefits program by offering a 5% discount to bicyclists that show their bike sticker attached to their helmet. The Bicycle Benefits stickers are sold at our Customer Service desk.