The Cellars at Jasper Hill Cheese Tasting
Submitted by
sbhimani
on Wed, 03/26/2014 - 13:50
Last week, City Market staff had the privilege of attending a special cheese tasting with Adam Smith, Head Caveman at The Cellars at Jasper Hill.  The topic was bloomy-rinded cheeses, those delightfully soft, often white, squiggly-molded cheeses that seem to be so popular these days.  Bloomy-rinded cheeses are usually made from pasteurized milk, as they are typically aged less than 2 months (raw milk needs to be aged at least 60 days).  For bloomy-rinded cheeses, either the milk is inoculated with a specific mold culture, or the cheese is misted with the mold culture to produce a rind that ripens from the outside in.  Most cheesemakers purchase mold cultures to inoculate cheeses, but over time, a layer of microbes coat the walls of cheese caves and eventually become very specific to place. Given this, it makes sense that The Cellars' tag line is "A Taste of Place," as very site-specific microbes contribute to the taste of all The Cellars' cheeses.  Much like how the term terrior is used to discuss place-specific tastes of wine, so can the term be used when talking about cheeses.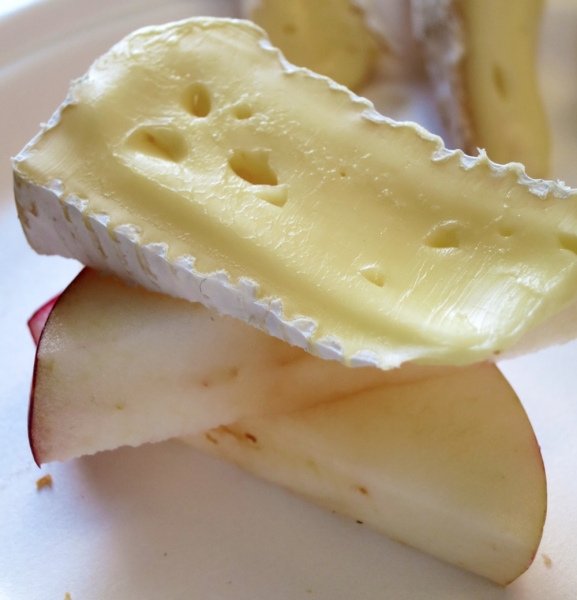 City Market staff members tasted a total of six cheeses, including four from The Cellars: Moses Sleeper, Willoughby, Harbison, and the very limited edition Kinsman Ridge.  Staff members practiced describing the different attributes of the cheeses, including the look, smell, taste, and mouth-feel. 
Moses Sleeper: Named after a Revolutionary War-era scout, this cheese is aged 4-6 weeks; has a gooey, milky core; and boasts vegetal and savory notes with a bright, acidic finish.
Willoughby: Named after the lake just north of Greensboro, this cheese is aged 4-5 weeks; has a thick, tacky rind that, if eaten, gives the cheese a pungent, savory flavor; and tastes of ripe peach and cream.
Harbison: Named after the "grandmother" of Greensboro, Anne Harbison, this cheese is aged 6-8 weeks; is cinched together by spruce bark harvested from Jasper Hill Farm; and boasts rich, sweet-cream flavors with vegetal undertones.
Kinsman Ridge: This cheese is a limited edition, hard to find cheese from Landaff Creamery and aged at The Cellars. Many of our staff who tasted it mentioned the cheese seemed to have aged-Colby flavors.  The cheese was soft, but firm, and would make a great addition to a cheese plate!  Unlike the other cheeses our staff tasted, Kinsman Ridge is made from raw milk and aged 60 days.
A big thank you to the folks at The Cellars of Jasper Hill and Adam Smith for taking the time to educate our staff about some of the cheese we offer in our cheese case!