Cooking with Fiddleheads and Ramps
Submitted by
choman
on Sun, 05/06/2012 - 15:23
Imagine a pesto that is silky and smooth, bright green, and bright and assertive, and you'll have a sense of wild leek and pistachio pesto (pictured here on toasted Bread and Butter Farm bread with olive oil). It is hands-down my new favorite non-traditional pesto.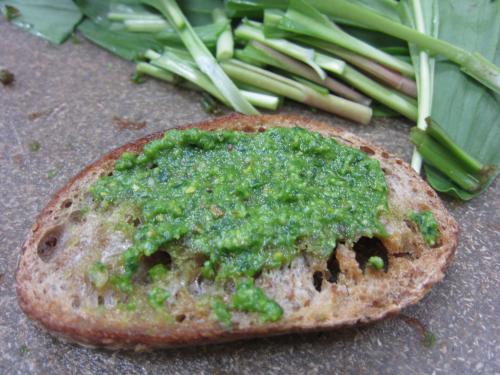 Margaret Osha from Turkey Hill Farm showed us this recipe in the wild edibles class we hosted today as part of our "Cooking with Your Farmer" series, where she demonstrated pesto with wild leeks and pistachios, curried fiddleheads with basmati rice, and yogurt panna cotta with wild ginger.
Drawing on her childhood memories of learning about wild foods at her mother's side, as well as her years farming and wildcrafting at Turkey Hill Farm in Randolph, Margaret gave us a fascinating glimpse into wild foods, how to prepare them, and some of her favorite recipes.
If you haven't tasted fiddleheads and ramps yet this this season, I can highly recommend the recipes below. As for wild ginger, you can get a good field guide or knowledgeable friend to show you wild ginger, and you can always substitute domestic ginger in the delicious panna cotta below.
And if you missed this class or want to get even more hands-on, Margaret will be teaching a day-long workshop at Turkey Hill Farm on Saturday, May 12th called "The Wildcrafted Lunch."
Enjoy!
Pesto with Wild Leeks and Pistachios
1 packed cup of chopped wild leek (ramp) leaves
½ cup olive oil
3 Tbs. pistachios
¾ cup grated Parmesan cheese
In a food processor, combine chopped wild leek leaves and pistachios. Process until well blended.  Add olive oil through top of food processor in a slow and steady stream. Finally, add the Parmesan cheese and process until well blended. Serve with toasted bread.
From The Farmer's Kitchen (Turkey Hill Farm)
Curried Fiddleheads and Basmati Rice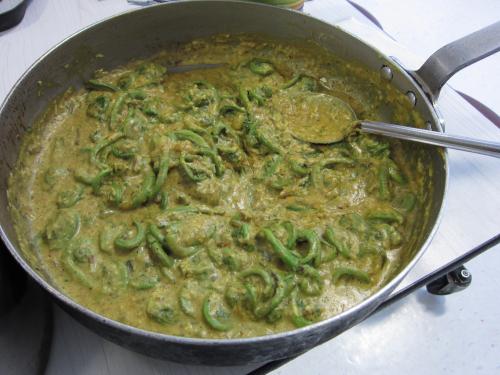 3 cups fiddleheads
3 Tbs. butter, divided
2 Tbs. flour
1 cup milk
1/3 cup shredded unsweetened coconut
1 onion
2 -3 cloves garlic, minced
1 Tbs. wild ginger root, minced (or 1 Tbs. domestic ginger)
1 Tbs. curry mixture (see below), 1 Tbs. curry powder
1 cup roasted cashews
Chopped chives for garnish
Wash fiddleheads well in several rinses, removing all of the papery chaff covering. Cook fiddleheads in lightly salted water for several minutes; drain and set aside.
In a skillet, melt 2 Tbs. of the butter. Add flour and sauté until brown. Very slowly, stir in milk and shredded coconut, mixing well with a whisk. Cook over low heat until sauce thickens to desired consistency.  
In another skillet, sauté onion and garlic in remaining 1 Tbs. butter. Add fiddleheads and curry mixture.  Cook together a couple of minutes to merge the flavors. Combine fiddlehead mixture and coconut sauce.
Garnish with roasted cashew and chopped chives. Serve with cooked rice.
Note: You can also serve this with other condiments typically used in East India, such as coconut, raisins, yogurt and chutney. I like to dress the yogurt with edible flowers.
From The Farmer's Kitchen (Turkey Hill Farm), adapted from a Rosemary Gladstar recipe
Curry Mixture
4 Tbs. coriander
2 Tbs. turmeric
1 ½ Tbs. cumin
1 Tbs. fenugreek
1 ½ tsp. each black pepper, poppy seeds, ginger, red chili
¾ tsp. dried mustard
½ tsp. cardamom
From Marvelous Mustards and Curious Curries, by Susan Wittig Albert
 
Yogurt Panna Cotta with Candied Wild Ginger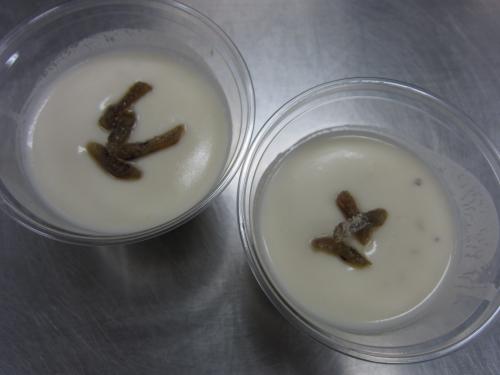 This has to be one of the easiest, most elegant desserts imaginable to make. This yogurt panna cotta is velvety smooth with simplicity of flavors to be slowly savored.  It's healthy, too!
2 tsp. unflavored gelatin
2 Tbs. water
1 cup whole milk
¼ cup maple syrup
1 vanilla bean/seeds from 3-4 cardamom pods/ or 2 Tbs. finely minced wild ginger
2 cups whole milk yogurt
In a small bowl, mix the gelatin with the water and let stand until softened, about 5 minutes.  In a small saucepan, bring the milk to a simmer with the maple syrup and the vanilla/crushed cardamom seeds/wild ginger.  Simmer about a minute.
Remove from the heat and stir in the softened gelatin until dissolved.
Whisk the yogurt in the warm milk until smooth. Pour the panna cotta mixture into 6 4-oz. ramekins and refrigerate until set, at least 3 hours.
From The Farmer's Kitchen (Turkey Hill Farm)