Beer and Wine Department
Beer & Wine Weekly Update: October 20, 2014
Body:
By Josh Downs, Beer and Wine Manager
The best part about working in the beer and wine business is that it's constantly changing.  There is never a moment where I feel like I've run out of wines to taste, breweries to visit, or chances to learn something new.  My biggest goal at City Market is to bring that experience to each and every person shopping for beer and wine at our store.  What better way to do this than by getting the folks that make the product in the store, talking about and sharing their product with the community?  This way everyone that walks through our store can meet beer and wine producers, get a chance to learn something new, and try some great beer and wine in the process. 
You may have noticed an influx in tastings in the department, and if you have, you can count on this trend to continue.  I had mentioned before that we recently had a few cider tastings (Boyden Valley, Citizen Cider, and Shacksbury), and they all went extremely well.  Everyone was excited to be in the store and the feedback so far has been really positive.  We are currently working on setting up more of these tastings in the future.  Look forward to tastings from Dogfish Head, Flag Hill Farm, 90+ Cellars, and much more!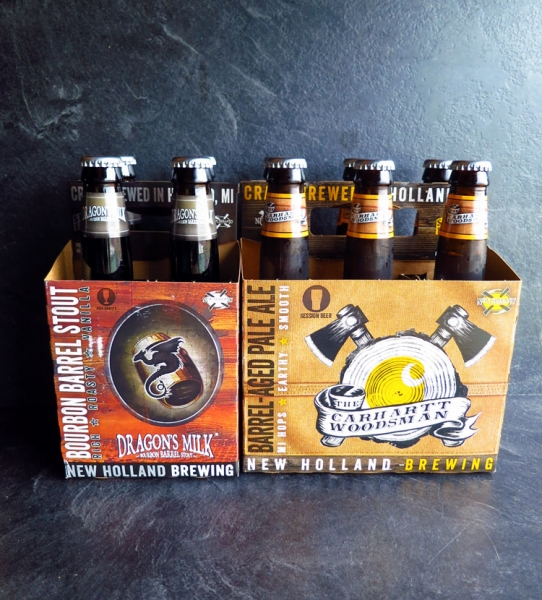 Changes in the Department
We have a few new additions this week in the department that I'm really excited about, especially New Holland Brewing Company.  Located in Holland, Michigan, New Holland Brewing sees craft brewing as an art and takes incredible pride in the beer they make.  We've brought in two great beers from New Holland: Dragon's Milk, a bourbon barrel aged stout, and The Carhartt Woodsman, a barrel aged pale ale.  I had Dragon's Milk for the first time a few years ago at The Ruck, in Troy, NY and was blown away.  The beer quickly became a favorite of mine and I'm not alone in this feeling.  Even Beer Advocate gave it an almost perfect score of 99 points.  When I found out New Holland was going to be available in Vermont I was ecstatic.  Dragon's Milk will be a pretty limited supply right now, so make sure to get it while you can!
Local Beer of the Week
A couple weeks ago I mentioned that we brought in Rock Art and Salvation Farm's collaboration, The Humble Harvester IPA.  I already gave a little run down on the charitable nature of the beer, so I figured I would give a little more detail on the beer itself this week for those of you that haven't gotten to try this yet.  And if you haven't got to try this beer, I recommend you remedy that as soon as possible, because it is fantastic.
The beer comes in a 22 ounce bottle, and pours a dark, hazy, golden yellow with a thick, milky head that persists.  Pleasant aromas of pine, grass, and citrus greet you promptly upon pouring.  The beer has a medium body with an oily hop texture.  A subtle bitter hop up front is followed by flavors of floral hops, citrus, and tropical fruits that all build up to a crisp finish with a slight sweetness.  This beer is very well balanced, easy to drink, and perfect for this warm fall weather we are having.  Get some while it's still around!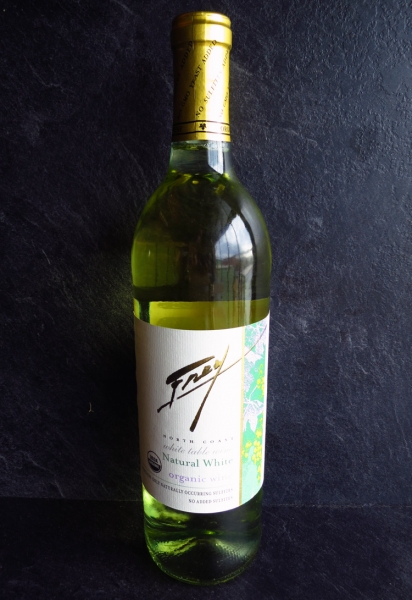 Weekly Winners
This week we are featuring two wines from America's first organic winery, as well as a classic import that everyone can enjoy.
Frey Vineyards, located in Mendocino County, California has been producing organic wines right at the headwaters of the Russian River since 1980.  Not only are they the first certified organic vineyard in the states, but they are the first maker of certified biodynamic wines in the country as well.  Frey has been family owned and operated since they were established and focuses on sustainability and producing extraordinary organic wine.  We are featuring two wines from Frey this week, the red and white blends.  Both the Natural Red and the Natural White are fruit forward, well balanced wines that pair with a broad spectrum of foods, so they are welcome at any gathering.
Keeping in line with the "firsts" theme, in beer this week we are featuring Pilsner Urquell, the world's first golden beer.  The first batch of Pilsner Urquell was brewed in 1842 in Plzen and the recipe has stayed the same ever since.  Crisp and refreshing with notes of caramel and bitter hops, this well balanced, style defining beer is sure to please even the most finicky of beer drinkers.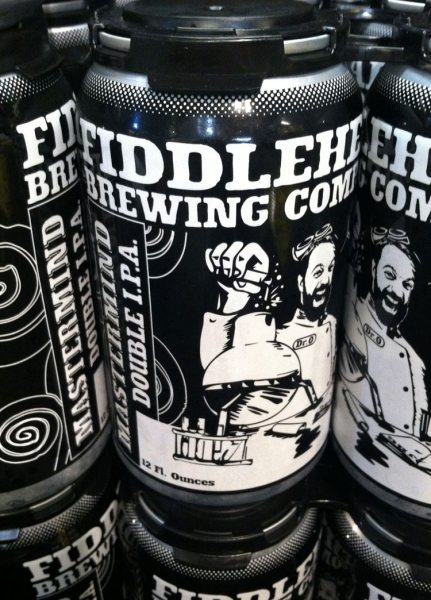 Beer and Wine News
If you are a Fiddlehead fan (and seriously, who isn't?), this is a good time to rejoice.  Last week I mentioned that we have been getting a more steady stream of Mastermind Double IPA cans, and Fiddlehead has officially confirmed that this is not going to change for a couple months.  They will be canning Mastermind on a two weeks on, one week off schedule until 2015.  But what happens in 2015 you may ask?  Mastermind will no longer be available in cans - that's the bad news.  The good news, however, vastly makes up for that.  Second Fiddle will be returning to the canned beer scene, and they will be canning it every week!  That means there will be a pretty steady supply of it to quench that big IPA thirst we all have.
Also, for all the hardcore craft beer fans out there, make sure to clear your calendars on November 8th.  Four Quarters Brewing in Winooski is hosting the first annual Vermont Firkin Festival.  They will be serving up cask-conditioned beers from various Northeast United States breweries.  There will be food from some fantastic local restaurants, as well as live music!  Tickets are $40 and can be found at https://www.freshtix.com/events/vt-firkin-festival.  Looking forward to seeing everyone there!
As always, thanks so much for reading!  If you have any questions, concerns, or topics you'd like me to cover feel free to contact me at jdowns@citymarket.coop, or by phone at 802-861-9730.  Hope everyone has a great week, Prost!
Pages
October Wine Picks for Under $10
By Josh Downs, Beer and Wine Manager, Beer and Wine Department
Fall is officially here, and what better way to enjoy it with a couple of fantastic wines from Bordeaux, France.  Both wines featured this month are from Chateaux de Legarde, which is the largest organic vineyard in Bordeaux, covering almost 450 acres.  The wines are also Non-GMO Project Verified, so you can feel good about drinking them!
Les Hauts de Legarde Blanc-Sec is primarily Sauvignon Blanc, giving it a bright floral aroma with notes of citrus, apple and pear.  This blend is well balanced with a slight minerality on the finish.  It is great when paired with seafood, especially grilled salmon, and salads.  Les Hauts de Legarde Rouge is a fruit forward blend, with notes of black currant and blackberry.  A slight smokiness carries you straight through to a lightly oaked finish.  It tastes great alongside pork, red meat, rich pasta dishes, and cheese.
Beer and Wine E-Newsletter Archive