Staff Favorites
Want to discover new local, organic, and conventional food, health, and wellness products? Check out recommendations from our staff for some of our favorites!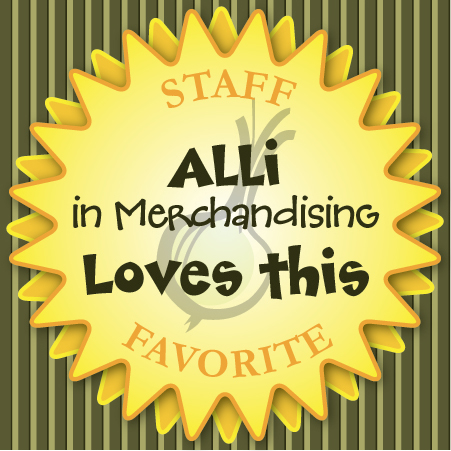 The purpose of City Market's "Staff Favorites" program is to increase awareness of the products and brands that our staff members love, as well as to reinforce City Market's values, share the diverse tastes of our employees, and to help introduce our customers to new products. You can find "Staff Favorites" in our aisles by keeping an eye out for signs like these:
Additionally, we'll be doing monthly giveaways on our Facebook page, featuring "Staff Favorites."  Check back here for new additions to our "Staff Favorites" list and to see videos of our staff members explaining why they love the products they love.
Videos
List of Staff Favorites
Aaron J., Bulk Team Lead:
Butterfly Bakery Organic City Market Muesli, Bulk Department
Raw Pecan Halves and Pieces, Bulk Department
Allison J., Store Merchandiser:
Wonderfully Raw Vanilla Maple Coco-roons, Aisle 4: "My favorite sweet treat! Gluten-free, sweetened with Vermont maple syrup, and chock-full of healthy fat from the coconut."
Bove's Marinara Sauce, Aisle 6: "My go-to pasta sauce when I'm too busy to make my own. Clean ingredients and no added sugar."
Ben M., Prepared Foods Buyer:
Claire R., Frozen Team Lead:
Donna D., Assistant Grocery Manager:
Ginnessa V., Receiver:
Jason M., Director of Operations:
August First Bakery Cheddar Jalapeno Rolls, Bakery Department: "Locally-made and a delicious and affordable complement to any Hot Bar or Cold Bar meal when you need a little something extra."
Q Tonic, Aisle 7: "The perfect compliment to any drink - smooth and delicious!"
Jay C., Store Assistant:
Rhapsody Tempeh, Hippie Cooler: "Rhapsody Tempeh is unique because it utilizes two distinct culture strains of soybeans. Plus, it's organic and made in Vermont!"
Wild Hill Soap and Herbals Patchouli Hemp Soap, Wellness Department: "Simple, natural, bio-degradable, and animal friendly with minimal packaging.  Subtle and pleasant aroma, easy on the skin, and made in Vermont."
Aqua Vitea Kombucha, Aisle 6: "Probioitic, effervescent, and incredibly thirst-quenching. Made in Vermont!"
JB L., Merchandising Assistant:
Foley Brothers Brewing India Pale Ale, Specialty Beer Cooler: "A great way to support a small Vermont brewery! This IPA has a smooth, hoppy taste without being overpoweringly bitter."
Dare Maple Leaf Creme Cookies, Aisle 4: "Made in Quebec, my grandpa and grandma always had these cookies on hand when I was a child and the unique, authentic flavor always makes me feel nostalgic."
John B., Systems Administrator:
Julia W., Store Assistant:
Rising Moon Organics Ravioli, Aisle 6: "Organic and vegetarian, this is a great option for a delicious quick meal. The sauces pair perfectly with the ravioli."
EO Everyone for Every Day Face Moisturizer, Wellness Department: "Love it! Smells great and perfectly balances my combination skin, leaving my face smooth and supple.  Plus, EO doesn't test its products on animals and is a B-Corporation."
Lemonfair Honeyworks Raw Honey, Aisle 1: "Local raw honey that is not heated and only slightly filtered to clean it. So delicious!"
Lynn Ellen S., Store Manager:
Flora Health Floradix Iron + Herbs Liquid Supplement, Wellness Department: "This is a unique iron liquid supplement made from a variety of vegetables, herbs, and fruit and veggie juices. The company has a good environmental reputation and good manufacturing practices."
Butterworks Farm Organic Heavy Cream, Milk Cooler: "Local and organic, this is a consistent and delightful dairy product that makes decadent whipped cream (perfect with local strawberries!).  Butterworks Farm is owned and managed by Jack Lazor, a Vermont trailblazer and leader in the agricultural sector."
Seggiano Basil Pesto, Aisle 6: "Made with hand-picked olives.  This pesto only has four ingredients: basil, cashews, olive oil, and salt. It is unpasteurized and has an incredibly rich aroma and flavor. Wonderful with bread, tomatoes, or apples!"
Mary M., Produce Buyer:
Mike T., Dry Goods Team Leader:
Mike Z., Grocery Shift Coordinator:
Nate G., Beer and Wine Stocker:
Nick H., Assistant Prepared Foods Manager:
Tierra Farm Organic Agave Ginger Cashews, Bulk Department: "A perfect pick-me-up snack!"
Rex D., Customer Service Coordinator:
Well Dressed Greens Lilou's Vermont Maple Balsamic Dressing, Produce Department: "Locally-made, small family business, organic ingredients - delicious!"
Vermont Cheeseless Maple Walnut Vegan Cheesecake: "Locally-made and vegan, this dessert is decadent yet healthful, a consistently wonderful treat for vegans and non-vegans alike."
Simon W., Assistant Safety and Security Manager:
The Cellars at Jasper Hill Harbison, Cheese Department: "Locally-made, this is one of the most unique and lively Camembert-style cheeses Vermont has to offer. The strip of bark that is wrapped around it adds an exceptionally zesty pungency."
Thursday Plantation Tea Tree Chewing Sticks, Wellness Department: "Refreshing, tastes great, and freshens breath. They also make a great aid in overcoming nicotine cravings for those looking to quit smoking."
Tim S., Programmer:
Green Mountain Creamery Yogurt, Perishables Cooler: "Made in Vermont, this yogurt promotes a robust ecosystem, both in the local economy and my stomach!"