We ♥ Cooperation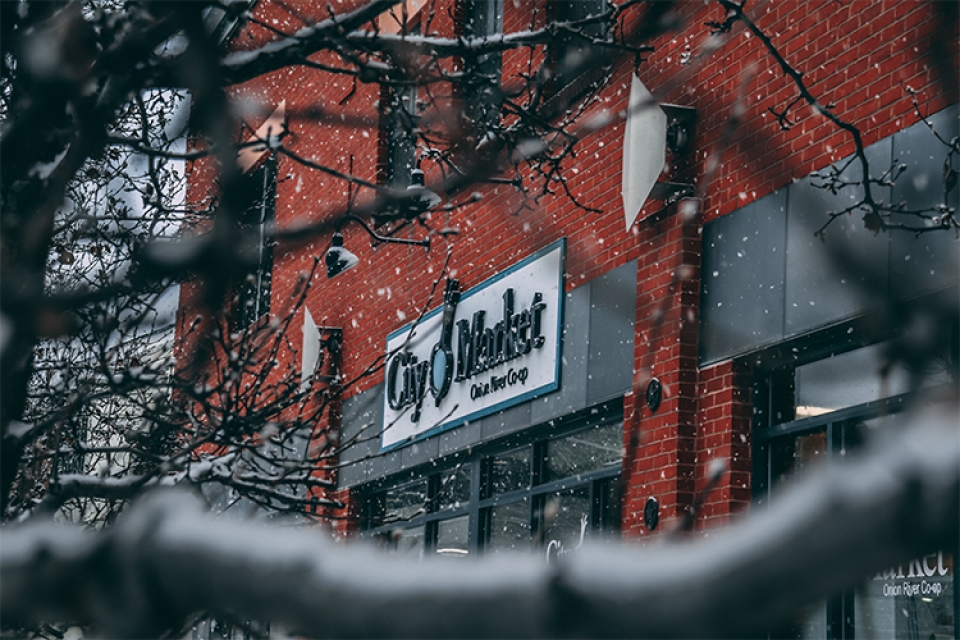 By John Tashiro, General Manager
We're only a month into 2018 and what an interesting winter so far with temperatures as high as 60 degrees and as low as the -20s. While these vast fluctuations bring various challenges, I have appreciated the frequency of snowfall this season as it brings many benefits for our lovely lake, local businesses and our beautiful planet. Snow plays a vital role in the health of our planet's climate system by regulating the temperature of the Earth's surface with its insulating qualities, reflecting sunlight back into space to help cool the planet, and filling the rivers and reservoirs once it melts. 
Last February we celebrated 15 years since the Co-op relocated to the Downtown store. This year, we celebrate 45 years since the Co-op formally started in September 1973. Back in the early 1970s, a group of people (also known as some of our original Members) decided to create a buying club, a common origin with many food co-ops, where they would pool their money to purchase food products that weren't readily available in northern Vermont. Out of a central location on Archibald Street in the Old North End of Burlington (and other earlier locations), the group distributed products and formally became the Onion River Co-op two years later. When there was leftover inventory from their orders, they would put out the extra food for sale on shelves in buckets, which ultimately progressed to having the Co-op's first storefront around 1990. Fast forward to today and the incredible passion, dedication and unwavering belief of our original Members remains as we provide access to a range of local, organic and conventional food offerings across two locations to over 13,000 Members, customers and the broader community.
Along the theme of service, you may have heard that for the second year in a row we were designated one of the 45 Best Places to Work in Vermont. This last year, and especially the last few months, we have been challenged to stay on schedule with the South End store, while still operating a very busy Downtown store. Our staff is now more than 330 people strong! Our team is truly incredible and they care deeply about the Co-op, its values and mission, and our Members which makes the Co-op an amazing place to work. I am fortunate to work with such a diverse group of inspiring and phenomenal people on a daily basis. 
Last spring we issued a request for proposals (RFP) with a goal of selling 75 Briggs Street, which is the subdivided portion of the South End store's original parcel of land. We are excited to announce that we have signed a purchase & sales agreement for this parcel with Andrea and Steve Charest of Petra Cliffs Climbing Center & Mountaineering School. Several organizations submitted proposals in response to City Market's RFP. Evaluation criteria included project alignment with City Market's Global Ends; the project's ability to fulfill a gap in services in the South End of Burlington; project compatibility with City Market's neighboring retail operation; and project compatibility with the surrounding neighborhood. City Market's project team reviewed the proposals this fall, selected organizations to present to the RFP team and finalized a selection earlier this winter. Andrea and Steve's plans for expansion and their focus on community wellness were inspiring pieces of their proposal and presentation to our team. Petra Cliffs is well-known and respected in the community and we welcome their move just down the street to become our (even closer) neighbor!
Last, but certainly not least, we are making great progress with our Member Loan Campaign, but still have a ways to go to reach our $1.5 million goal. The generous Member offer of a dollar for dollar match of up to a total of $125,000 for each new Member loan in January certainly generated lots of excitement (and loans). The Member Loan Campaign remains a very tangible way to directly invest in the growth of the Co-op and earn a fair rate of return with a business you already own and believe in. We are still accepting loans, so please let us know if you are interested in investing in the Co-op's future!
If you're feeling creative this month, consider entering our annual We ♥ Local Food Recipe Contest which is now underway. This year, we've chosen butternut squash as our featured ingredient and we can't wait to see what you come up with. These hearty squash are the perfect staple for a Vermont winter. Roast them up as a side or puree into soup or even sneak them into hummus and baked goods. The possibilities are endless! Enter your recipe online now through February 11th and join us in-store or at the Winter Farmers' Market to sample and vote on the top 3 recipes!
As always, thank you for your support. We have been hearing feedback from so many of you recently and we welcome every interaction! We will continue to listen and work every day serve you, our Members and the broader community. We look forward to seeing you at the Co-op and wish you our very best!