Image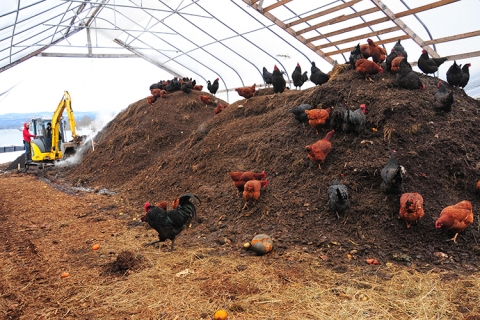 local
made_in_vermont
organic
1996 Main St
Montpelier, VT 05602
United States
Vermont Compost Company makes compost on their farm in Montpelier. Karl Hammer takes frood scraps from area schools, restaurants, grocery stores, and more. The food scraps both turn to compost as well as feed Karl's flock of laying hens - whose eggs can then be sold back to the community. Annually, Vermont Compost Company recycles over 400 tons of organic waste!
Vermont Compost Company's compost and potting soil are regarded as extrodinarly high quality by farmers throughout the state. Karl's expertise at mixing minerals and nutrients create soils that support healthy and thriving plants. As Karl says, "All of our products are designed to provide long-term benefit to the soil..." 
Vermont Compost Company potting soils and compost mixes are available in our Produce Department during the growing season.