Image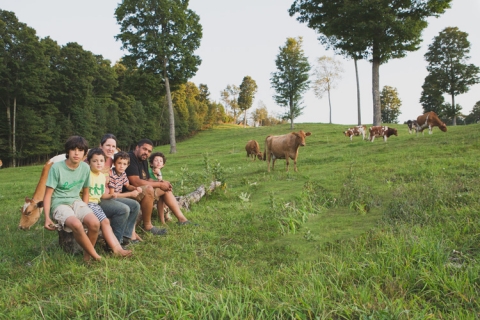 local
made_in_vermont
organic
pastured
61 Rock Bottom Rd
Strafford, VT 05072
United States
Earl Ransom grew up milking cows on this 600-acre farm. He and his wife, Amy Huyffer, carry on his family's tradition of managing the land organically, with no herbicides, pesticides or chemical fertilizers.
Their herd of 50, mostly-Guernsey cows, grazes on rotational pastures for the entire growing season. Guernsey cows are known for their rich, yellow cream; their butterfat carries the color and flavor of their feed better than that of other breeds.
Everything they do, from the crops they grow for the cows to the gentle routines of milking, is focused on their comfort and well-being, and helping them produce super-tasty milk and cream. They process their milk into reusable glass bottles, using HTST (High Temperature, Short Time) pasteurization, which they feel best preserves the flavor and texture of the milk.
Their milk is available at natural foods stores and coops throughout Vermont and Western New Hampshire in skim, 1%, 2% and whole, chocolate and half-and-half, as well as a non-homogenized, old-fashioned cream-line milk.
They make their ice cream in small batches, one day each week. They wouldn't dream of blending their cows' cream with anything but the highest-quality organic ingredients. They separate fresh eggs by hand, handpick the mint and black raspberries, grind the coffee just before they brew it into the milk and basically work their tails off to make the best ice cream on the planet.
Purchase their products anytime of year at City Market.
Photos by Amy Donahue Photograhy
Information from Vermont Dairy