Image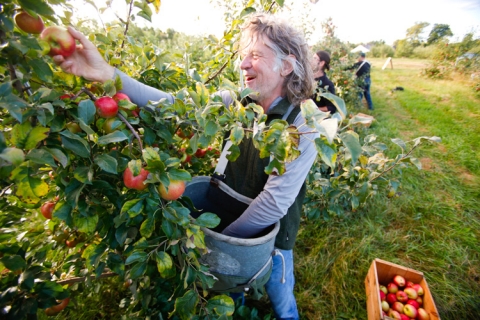 Baked Goods
Fruits & Vegetables
216 Orchard Rd
Shelburne, VT 05482
United States
Shelburne Orchards may be best known at City Market for their apple cider doughnuts, delivered fresh each day in the fall (and now located in our Bakery Department!).  The orchard grows sour cherries, peaches, apples, and apple trees and has a lot of fun doing it – hosting an annual Cider House Run & Pie Fest, a Truckload & Ginger Jack & Carboy Sale, and a Small Farms Food Fest.
The orchard also produces sweet cider, ginger cider, Ginger Jack (a non-alcoholic specialty drink), cider doughnuts, apple pies, and, tucked away in a secret location, they're distilling "Dead Bird" apple brandy. The orchard has been in the Cowles family since the 1950's and is currently run by Nick Cowles.
Located on a hill sloping down to Lake Champlain, the orchard is worth a visit for the views alone. 
Each fall, find their apples, cider doughnuts, Ginger Jack, and cider for sale at the Co-op.