Image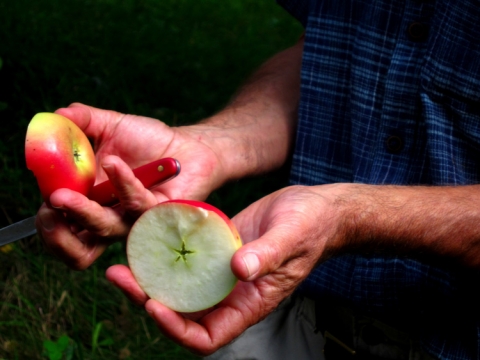 707 Kipling Rd
Dummerston, VT 05301
United States
Scott Farm is an orchard in Dummerston, VT where they continue to grow over 70 different kinds of apples, helping preserve old heirloom varieties with their unique flavors, textures, and names.
Scott Farm has developed a collection of heirloom trees through travels to old abandoned New England orchards and travel to Europe, going as far as Kazakhstan, the birthplace of apples. These heirloom apples come with fascinating stories. Lady Apples, for example, are a small and fragrant apple popular during the Roman Empire. During the Renaissance period, women would keep Lady Apples tucked away in their bosoms and use them as a breath freshener.
The orchard's fruit are certified 'ecologically grown' and the farm has worked with both the University of Vermont and the University of Massachusetts to develop pest controls such as pheromone traps and visual lures with a goal of increasing the health of the entire ecosystem, not just the fruit.
August through November our Produce Department has dozens of varieties of apples from Scott Farm. To sort through them all, check out our online heirloom apple guide.
Heirloom apples, with their complex flavors, bake up into amazing apple pies. For best results, use a number of different varieties in your pie to increase flavor.