Image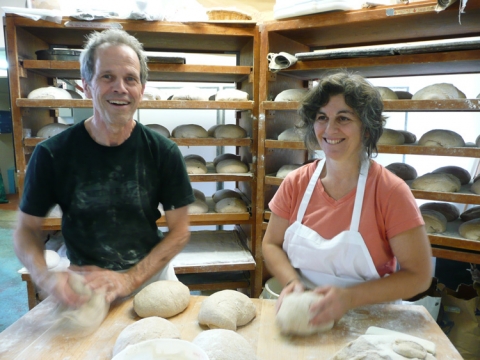 352 Farm Barn Ln
Shelburne, VT 05482
United States
In the words of O Bread Bakery:
"Making organic bread before organic certification existed, Chuck and Carla have been hand-crafting organic bread in Vermont since 1973. O Bread Bakery has had the pleasure of selling our breads at the Co-op since the early days of the Onion River Co-op on Archibald Street. Family-owned and operated since 1977, we have been making European-style breads with organic ingredients, from our hearth oven bakery on the grounds of Shelburne Farms. Our commitment to organic agricultural products was made in the very beginning, as the best way to promote sustainable farming and human durability – in personal, societal, and ecological ranges. 
Today, with the help of the next generation and our small team of skilled bakers, we continue with the mission to create high quality breads with the finest ingredients. Quite simply, the ingredients for our breads are the finest obtainable. We use hard and soft wheats, rye, and spelt. We buy wheat from organic farmers in New York State, Quebec and the Midwest. The sifted, "white" flour that we use is really more of a creamy, off-white color due to the fact that it is unbleached and totally untreated, retaining the rich flavors of the grain. These flours also are organic. And always have been.
All of our breads are made by long fermentation, allowing the alchemy of fermentation to work its wonders of tastes, aromas, and textures. As with fine wines and cheeses, good things are worth waiting for. The skill of our bakers lies in their intuition and knowledge in interpreting the conditions on any given day."
You can find their breads in our Bakery Departmnet.