Kimball Brook Farm / Green Mountain Organic Creamery
Image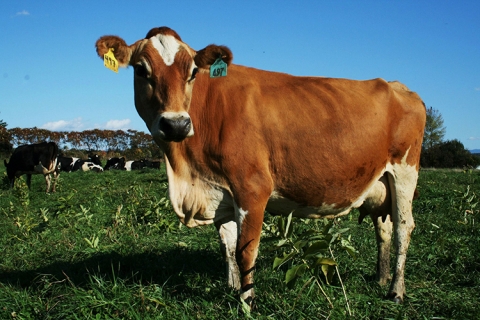 2263 Greenbush Rd
North Ferrisburgh, VT 05473
United States
As of January 1, 2020, Kimball Brook Farm is transitioning out of dairy farming and are shifting their focus on CBD products. We currently are not carrying any of Kimball Brook products at either store but will announce when their CBD products become available.
Kimball Brook Farm, was a small dairy farm tucked into the Champlain Valley. Several years ago, farmers Cheryl and JD DeVos started dreaming of ways they could keep the small-scale dairy farm that had been in their family for over 50 years going. Their plan? Build a creamery where they could bottle their own milk and sell it directly to customers.
JD and Cheryl milked 200 Jersey and Holstein cows down in North Ferrisburgh. The farm was certified organic and the cows were able to graze pasture all through the warm months of summer. The farm has been honored as one of the best dairies in the state – in 2011 JD and Cheryl were recognized for their stewardship of their land and their herd in receiving the 2011 Vermont Dairy Farm of the Year award.
After more than 5 years of planning, we welcomed their milk to our shelves in 2012 and continued selling their products through the end of 2019.