Image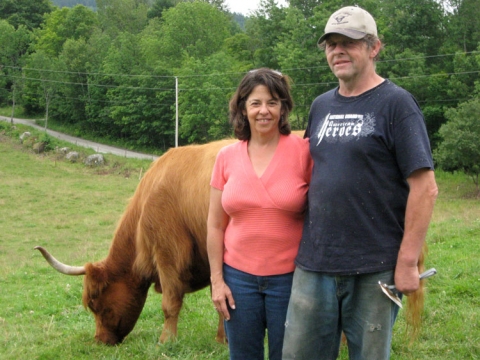 local
pastured
fully_grass_fed
antibiotic_free
hormone_free
487 Gray Rd
Plainfield, VT 05667
United States
Greenfield Highland Beef is owned and operated by Ray Shatney and Janet Steward. Ray's parents started raising Highland cows on the same farm in Plainfield in 1967. 
Highland beef is low in cholesterol and high in omega-3s, and Ray and Janet describe Highland cows this way: "Highland Cattle were first imported from Scotland to North America in the 1880's and remain unchanged over the centuries. Due to their isolation in the cold, wet, climate and rough forage in Northern Scotland the breed developed the traits of hardiness, longevity, vigor and reproductive efficiency. Highland Cattle are thrifty, slower growing and fiercely maternal -- yet docile. While red is the most common color in the breed, the double-haired coat may also be black, blond, brindle, dun and white. The need for a thick layer of back fat is eliminated by the Highland's double layer of hair which insulates in winter and sheds in summer. Today the breed is well known for it's lean, richly flavored beef. The Highland Cattle's ability to digest a variety of plants and grasses makes it a perfect choice for those who want to consume 100% grass fed and finished beef."  Another reason why you can feel good about purchasing Greenfield Highland Beef is because Ray and Janet donate a portion of every animal butchered to the Vermont Food Bank.
You can find Greenfield Highland Beef in our Meat and Seafood Department.
Congratulations for Greenfield Highland Beef for being awarded the 2016 Small Business Administration Award for Family-Owned Business of the Year!