Image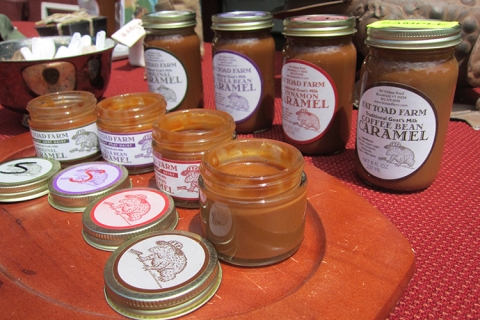 787 Kibbee Rd
Brookfield , VT 05036
United States
Fat Toad Farm is a small, family owned and operated goat dairy run by husband and wife team Judith Irving and Steve Reid and their daughters Calley Hastings and Hannah Reid. The family has spent several years building a high quality French Alpine and Saanen goat herd to produce fresh goat cheese and goat's milk caramel (cajeta).
Their goat's milk caramel is similar to dulche de leche and is one you just have to try. Drizzled on ice cream, fruit, granola, or eaten straight off a spoon, the caramel is cooked up in copper cauldrons. The farm makes Original, Vanilla Bean (using whole organic vanilla beans), Cinnamon (using three different kinds of organic cinnamon sticks), and Coffee Bean (with whole organic beans from Equal Exchange fair trade coffee company). Find their jars of caramel on our grocery shelves in Aisle 1 and their goat cheese in our artisan cheese case.
And check out their amazing recipes for Caramel and Goat Cheese Swirl Brownies or Grilled Peaches with Fresh Goat Cheese, Caramel & Sliced Almonds.