Image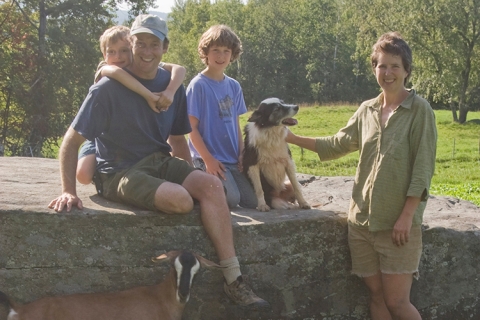 1703 Route 108 S
East Fairfield, VT 05448
United States
Does' Leap is an innovative, diversified organic farm specializing in a variety of fresh and aged goat cheeses and kefir. They also raise organic pork. In an effort toward greater sustainability and self-reliance, much of their farm work - including plowing, harrowing, spreading manure, and firewood collection - is accomplished with two draft horses.
The farm is located in northern Vermont in the heart of the beautiful Green Mountains with close proximity to Lake Champlain. Their goats and other livestock have the luxury of feeding on the wild vegetation of our region as they spend all but the winter months outside. They are one of the few goat dairies in the country that rely on a mixture of pasture and browse as the primary feed source and have conducted a 2 year, USDA-funded study on this farming practice.
As a result of their reliance on browse and grass, their cheeses and meats are of exceptionally high quality and take on the flavor of varied vegetation and Vermont's changing seasons. They believe in a diversified farm ecosystem where each aspect of the farm complements the other. Check them out in City Market's Cheese Department.