Image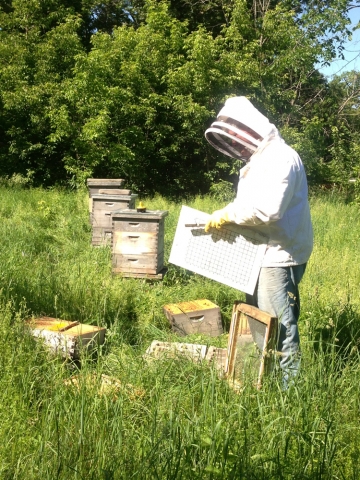 1973 Polly Hubbard Rd
Georgia, VT 05478
United States
Chasworth Farm is a working farm located in Georgia, close to Lake Champlain. The 210 year old property has been farmed continuously throughout its life, and today is home to Marcia and Grey Hagwood and their chickens, angora goats, sheep, and on good years, honeybees.
Marcia is a certified advanced soap maker and creates artisan soaps and shaving and body care products featuring sustainable and organic ingredients, as well as some local ingredients produced on their farm and on neighboring farms. Soaps are made following traditional processes and are formulated to be very gentle with creamy lathers, safe for everyone in the family.  The Farm's signature soap, "Our Farm Soap," features egg yolks from their free ranging hens, honey and beeswax from their hives, plus a little lanolin in honor of their sheep and goats.
The wrapper for the soap was hand painted by Vermont artist Gabe Tempesta and is a portrait of Molly, a beloved pet Ameraucana chicken, Martha, a Leicester Longwool sheep, and a honeybee.  As spring arrives and egg production in the hen house peaks, batches of the Farm Soap will be made weekly and set aside to cure slowly. Traditional farm soaps have always used whatever fats were on hand and egg yolks have been a luxurious addition since the 1800s, providing extra conditioning and creaminess to the lather. Honey and beeswax serve as humectants and skin conditioners, and pure lanolin softens and protects. The bar is one of several soaps they make featuring local sunflower oil grown in the Champlain Islands.
Chasworth Farm also produces a line of natural shaving care products free of chemical foaming agents, silicones, petroleum products, and synthetic ingredients— crafted instead with soothing and conditioning ingredients like organic black currant seed oil, organic cocoa butter, and organic witch hazel hydrosol, and scented with pure essential oils.  The semi-solid shaving cream is designed to be used with a shaving brush.
Marcia and Grey believe in the dignity of a bath, and it is part of their company's mission to donate handmade soaps to their area food bank and two shelters for battered women and children quarterly.
You can find their products in our Wellness Department!