November's Health Genie: Coconut Oil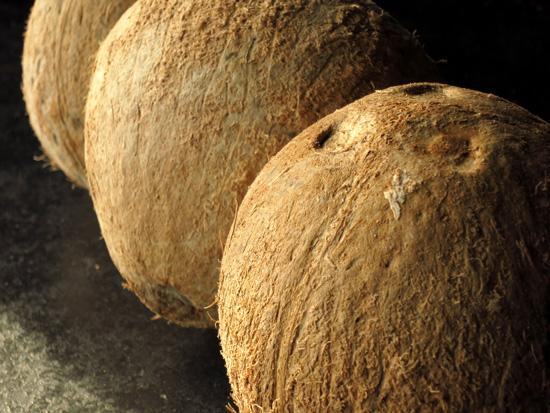 Note:This article is not meant as a substitute for proper medical advice. Please consult with your medical practitioner before using any type of remedy, herbal or otherwise.
Hello Health Genie,
I know this is a common complaint, but nothing I've tried seems to really help.  I typically have pretty dry skin, but with the colder drier weather approaching, I just can't seem to keep my skin hydrated.  I've heard that coconut oil can be effective, but I've never used it outside of the kitchen.  Can you tell me more about its medicinal properties?
Thank you,
Debbie Dry
Dear Debbie Dry,
Yes, coconut oil can be used for an array of things.  It is differentiated from other cooking oils in the fact that it is solid at room temperature and takes longer to go rancid than most other oils--it can have a shelf life of two years or more due to its natural resistance to oxidation.  Some of its suggested health benefits when consumed include:
Helps to regulate blood sugar levels (good for diabetics)
Kills bacteria and parasites
Aids in proper bowel elimination
Heals and soothes intestinal disorders- including Crohn's disease and irritable bowel syndrome
Liver strengthening
Supports healthy thyroid functioning
Reduces joint and muscle inflammation
Provides sustained energy release
Helps increase metabolism
Aids in weight management due to its unique medium chained fatty acids
Aids in building a healthy immune system (due to the lauric acid content, which is also found in breast milk)
contains  manganese, copper, zinc, Vitamin E, and selenium
You can substitute coconut oil for most other oils that a recipe calls for.  Depending on the recipe, it might give a slightly nutty flavor or it could be completely masked (especially if baked).  See below for some tasty recipes.  And if you make a mess with the oil or have leftovers, lather it all over your body!
Coconut oil is very moisturizing and healing to chapped and chafed skin.  It is rich in vitamin E, a popular vitamin used for healing abrasions, as an antioxidant, and for anti-aging. It will also help kill any pathogens and bacteria on your skin due to the antimicrobial constituents of capryilic and capric acids.  Although it's solid at room temperature, it is easy to melt if you rub it between your hands.  (Or, if it's a hot summer day, it might already be a perfect consistency).  Coconut oil will not only heal your scars and kill off any unwanted bacteria, but it will also brighten your skin tone.  Who doesn't want a little extra luster this time of year?
And if that isn't enough, there are even more uses for coconut oil!  It can be used as a hair rinse for deep moisturizing and as a mouth wash.  Due to the unique medium chain fatty acids, the oil can freely pass into the hair shaft where most conditioners can't penetrate, providing deep hydration and conditioning.  Simply massage into the scalp, let sit for 20-30 minutes and then rinse out with shampoo.  This will also help relieve dandruff and give your hair extra shine.
And while you are waiting for the coconut oil to seep into your scalp, swish around a tablespoon of the oil in-between your teeth.  Some oral health experts say that coconut oil is more effective than fluoride in preventing cavities.    This ancient Ayurvedic practice also known as "oil pulling" can have many modern day benefits.   It can strengthen the teeth, freshen the breath, prevent tooth decay, and reduce bleeding gums.  Best done before breakfast, oil pulling can help to detoxify the body.  It's a great addition to any detoxifying program or diet.  The oil literally pulls bacteria, mucous, puss, etc. out of your teeth, gums and the surrounding areas and can even drain clogged sinuses.
There are many types and varieties of coconut oil.  It's best to stick with an unrefined cold-pressed or "virgin" coconut oil because this process most effectively preserves the quality of the oil's constituents.  Any heating will reduce its health benefits (but it is still good to use in those muffins and other baked goods!).   Refined oils can be cheaper, but they are usually processed at high heat and aren't as beneficial as the unrefined, cold pressed versions.   So if you enjoy the smell and taste and want the most benefit, stick with the unrefined, cold pressed coconut oil for your cooking and skin care needs.
City Market has a variety of coconut oils that can suit any purpose.  In the Wellness section, one can find coconut oil from brands like Spectrum & Now foods.  The Spectrum brand is both organic and unrefined, whereas the Now coconut oil is further refined and deodorized.  An isle down in the grocery section, there are brands like Dr. Bronners, Nutiva, Artisana, and La Tourangelle.  All are organic and unrefined.  The la Tourangelle, Nutiva, and Dr. Bronners are all certified Non-GMO.  The Dr. Bronner's is also fair trade certified.  The food grade cooking oil can be used both internally and externally.  The only difference in the food grade and body care oil is that the food-grade oil is subjected to FDA regulations and is therefore more tightly monitored.  City Market also carries other coconut products like coconut cream and manna (basically the flesh plus the oil for a more creamy consistency), coconut water, and coconut milk (from the flesh).   Whether it is for cooking, baking, or personal care needs, coconut oil is definitely worth checking out.  For further information, studies, and recipes, refer to the links below.
For more information:
Oil Pulling Therapy: Detoxifying and Healing the Body Through Oral Cleansing by Bruce Fife
The Miracle of Coconut Oil by Bruce Fife
Recipes:
Energy Balls/Bars:
Ingredients
    ½ Cup Raw Vermont Honey
    2 Cups Rolled Oats (not steel cut)
    1/4 Cup Ground Flax Seeds
    1/2 Cup Melted Coconut Oil
    1 Cup Peanut Butter (or other nut butter)
    ½  Cup Shredded Coconut
    ½ cup any seed/s of choice (sesame, sunflower, etc)
Optional:
    3 Tbsp.  Cocoa Powder
    1 Tbsp  Maca, Ashwaganda, or Licorice Powder (for extra energy support)
Directions
Combine oats, seeds, shredded coconut, and cocoa powder/maca powder if desired.  In a separate bowl, combine honey, coconut oil and peanut butter. Combine the oat mixture and honey mixture together. Either fill into a pan and cut into squares or roll into bite size balls. Store in the refrigerator until ready to consume.
Fluffy Vegan Coconut Oil Banana Muffins (from averiecooks.com)
Ingredients
1 to 1 1/4 cups mashed ripe bananas (about 3 small/medium or 2 large)
1 3/4 cups all-purpose flour
1 tablespoon baking powder
1 teaspoon cinnamon
1 teaspoon nutmeg
pinch salt, optional and to taste
1 1/4 cups granulated sugar
1/2 cup coconut oil, melted (canola or vegetable oil could be substituted but I prefer coconut oil)
1/2 cup milk, slightly warmed (coconut, almond, soy, rice, cow's; I used unsweetened vanilla almond milk)
1/4 cup light brown sugar, packed
1 tablespoon vanilla extract
about 1/3 cup granulated sugar, for dipping
about 1 tablespoon cinnamon, for dipping
Directions
Preheat oven to 400F. Grease the muffin pan. I estimate the recipe will make 30 to 36 mini, or 16 to 18 regular-sized muffins. Set pans aside. In a small bowl, mash the bananas; set aside. In a large bowl, combine flour, baking powder, 1 teaspoon cinnamon, nutmeg, optional salt, and stir to incorporate; set aside. In a medium bowl, combine 1 1/4 cups granulated sugar, melted coconut oil, slightly warmed milk (this prevents the cold milk from re-solidifying the coconut oil on contact), brown sugar, vanilla, and whisk to combine. Fold in the bananas. Pour wet mixture over the dry, stirring until just incorporated. Make sure to get all the dry bits from the bottom of the bowl, but don't over mix or muffins will be tough. Fill the cavities between 2/3 and 3/4 full; don't exceed 3/4 full. Bake until done. Tops will be domed, springy to the touch, and will be on the paler side rather than golden. Done for me was about 9 minutes for mini, 15 minutes for regular sized. Baking times will vary. Allow muffins to cool in pan for about 10 minutes before carefully turning out onto wire racks to cool completely. If desired, after they're cool enough to handle, stir together about 1/3 cup granulated sugar and 1 tablespoon cinnamon, and dip the tops (or entire muffin) into it. Muffins will keep airtight at room temperature for up to 5 days or can be frozen for up to 3 months. They get softer and the flavor intensifies on the second and third day.