2022 Board of Directors Elections
Vote in our 2022 Board of Directors Elections!
We are no longer accepting applications for the Board of Directors for our 2022 elections. The deadline to submit applications was September 5, 2022.
Voting for Board Members will take place online from Wednesday, October 12 - Wednesday, November 2. Eligible Members will receive detailed information in their mailboxes with instructions on how to cast their online ballots. This page will also be updated with instructions once voting begins on October 12. You will also get a chance to hear from this year's Board of Directors candidates and cast your vote at our upcoming Online Member Meeting on October 12.
If you have any questions during this process, please contact our Membership team at 802-861-9707 or membership@citymarket.coop.
Thank you in advance for casting your vote in October and participating in Co-op Governance!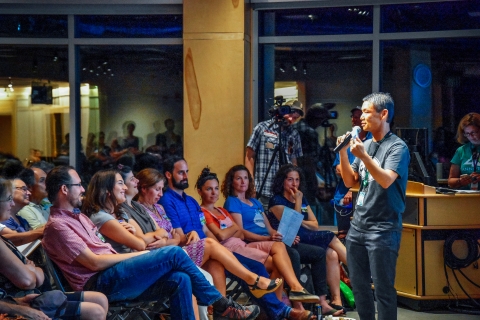 Eligibility Requirements
City Market, Onion River Co-op Board of Directors' candidates must:
Be a City Market, Onion River Co-op Member in good standing. Any household member wanting to run for the Board must purchase Equity under their own Membership by September 5, 2022.
Be 18 years of age as of September 5, 2022.
State all potential conflicts of interest on the application and must not have an overriding conflict of interest.
 
Board Applicant Checklist
In an effort to better educate new candidates about Board work, including the time commitment involved and the associated responsibilities, the Board has created a list of optional preparedness activities. Applicants are encouraged to:
Attend an Orientation with Michael Healy. Michael Healy is a Co-op Member, our Board Facilitator and a consultant with CDS Consulting Co-op. We have scheduled three orientations at City Market this summer to be conducted through the ZOOM  video call platform:

Monday, July 25, 4:30 - 5:30pm
Tuesday, August 16, 5:00 – 6:00pm
Wednesday, August 24, 6:00 – 7:00pm

To attend one of these sessions, RSVP at least 48 hours in advance to Patrick Tracy at ptracy@citymarket.coop. If you RSVP and then need to cancel, please let Patrick know.
Read suggested materials on Policy Governance. If you would prefer printed versions, please contact Patrick Tracy.
four pillars of cooperative governance
Taking Policy Governance to Heart
The Policy Governance Quick Guide
Review a Board packet from a prior meeting. City Market's Board packets are reading materials that each Board Member receives prior to each meeting to help them be prepared to fully participate in the monthly Board meeting.
Attend a Board meeting. There are three opportunities to attend Board meetings through the ZOOM platform before the Wednesday, September 5 Board Candidate Application deadline. Please RSVP to Patrick Tracy at 802-861-9707 or ptracy@citymarket.coop prior to the meeting to receive directions for accessing the meeting remotely.

Monday, June 27, 6:00pm
Monday, July 25, 6:00pm
Monday, August 29, 6:00pm

Talk with a current Board Member. This will give you a Board Member's perspective of the Co-op's governance process. Board Members will be available during the orientation sessions with Michael Healy (see above). Otherwise, please use the contact information on our Board page to get in touch with a Board Member directly.
Incumbent. If you're a current Board Member running for your next term, you've already done all of the above items. We'll make sure to note that in the Elections materials.
Thank you for participating in Co-op Governance!