Co-op Basics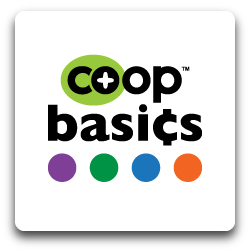 We're committed to providing great food at great prices, all year long. That's why we've lowered the price on over a hundred items, including local and organic foods, to create a set of high-quality staples for every shopper. We're calling them Co-op Basics. Look for these items throughout the store and let us know what you think!
Produce
Fair Trade Organic Bananas
Organic Baby Carrots 1lb Bag
Organic Romaine Hearts
Russet Potatoes 5lb Bag
Grocery
Clif Bar
Clif Bar Assorted Flavors
Luna Bars
Luna Protein Bars
Domino
Earth's Best
Organic Baby Food Jars
Organic Infant Formula w/ DHA
Field Day
Organic Applesauce
Organic Apple Cider Vinegar
Organic Balsamic Vinegar
Organic Beans
Organic Broth
Organic Canned Corn
Organic Canned Green Beans
Organic Canned Sweet Peas
Organic Canned Tomatoes
Organic Canned Tomato Paste
Organic Canned Tomato Sauce
Non-GMO Canola Oil
Organic Cereal
Organic Cereal Bar
Organic Coconut Milk
Organic Cookies
Organic Crackers
Organic Dressing
Organic Expeller Pressed Coconut Oil
Organic Fruit Spread
Organic Instant Oatmeal
Organic Juice
Organic Ketchup 
Organic Macaroni & Cheese
Organic Microwave Popcorn
Organic Mustard 
Organic Olive Oil
Olives
Organic Pasta
Organic Pasta Sauce
Organic Peanut Butter
Organic Pizza Sauce
Organic Salsa
Sea Salt
Skip Jack and Albacore Tuna
Vermont Coffee Company
Organic 14 oz - 16 oz Signature Roasts Coffee Made in VT
Frozen Foods
Cascadian Farm
Organic Blueberries 28 oz
Organic Cherries 32 oz.
Organic Raspberries 28 oz.
Organic Strawberries 32 oz.
Morningstar Farms
Frozen Breakfast Links
Frozen Breakfast Strips
Frozen Grillers
Silver Hills
Sprouted Breads *Selected Varieties
Sno Pac
Organic Frozen Corn
Organic Frozen Green Peas
Dairy & Perishables
All Souls Tortilleria
Corn Tortillas Made in VT
Cabot 
Butter Quarters 16 oz Made in VT
Florida's Natrual 
Orange Juice 
Grapefruit Juice 
Green Mountain Creamery
Monument Farms
Vermont Co-op Milk Gallons Local
Organic Valley
Rhapsody
Organic Tempeh Made in VT
Savage Gardens
Silk
Meat
McKenzie
Bacon
Beef Franks
Ham Steaks
Plainville
Smart Chicken
Thousand Hills
Grass-Fed Ground Beef 16 oz.
Wellness
City Market
Acidophilus Bifidus
Calcium Citrate with Vitamin D
Once Daily Omega
Vegetarian Basic Multi-Vitamin
Vitamin C Supplements
EO
Everyone Face Cleanse
Everyone Shampoo & Conditioner
Everyone Exfoliater
Everyone Kids Soap
Everyone Lotion
Everyone Moisturizer
Everyone Soap
Household Goods
Field Day
Dish Washing Detergent 
Facial Tissue
Liquid Dish Soap
Liquid Laundry Detergent
Paper Napkins
Paper Towels
Recycled Bath Tissue
Seventh Generation
Bulk
Equal Exchange 
Bulk Coffee *Selected Varieties