Wellness Resources
Got a Kid with Diabetes? Don't Be Spooked this Halloween
By
the Healthnotes Medical Advisory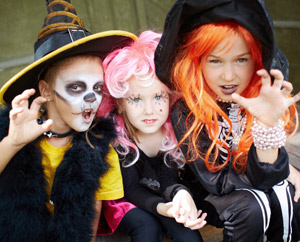 Because you aren't going all out on the food, put those resources toward some killer decorations
Halloween should be filled with delightful fright—but it doesn't need to be scary for parents of children with diabetes. With some creativity and planning, you can host a hopping Halloween party for your kids, while avoiding the pitfalls of too much sugar.
According to the American Diabetes Association, "Shared decision-making with youth regarding the adoption of regimen components and self-management behaviors can improve diabetes self-efficacy, adherence, and metabolic outcomes." In other words: enlist your kids in the process, and they'll be more likely to stick to their diabetes care plan on Halloween, and they'll have fewer slip-ups and complications in the long term.
Shift the focus from food
There's no hard and fast rule that Halloween treats have to be edible. About a month before Halloween, start buying little treats to share with kids at the party, such as pencils, erasers, Play-Doh, temporary tattoos and stickers. Start early: if you don't find what you're looking for locally, let your fingers do the walking—on your computer keyboard—and purchase small items online. Have kids help stuff goodie bags when the items arrive.
Because you aren't going all out on the food, put those resources toward killer decorations. Your kids will love assisting with the set-up!
Go with the tried and true
Kids of all ages enjoy bobbing for apples, carving pumpkins, and painting faces.
Kid-safe face paint
3 tablespoons, plus 1 teaspoon of cornstarch
2 teaspoons all-purpose flour
5 teaspoons vegetables shortening
Food coloring (add drop by drop to the mixture until you reach the desired color)
You could also have your kids set up a spooky treasure hunt by hiding items like plastic spider rings throughout the house for guests to find.
Make a meal of it
Instead of candy, offer partygoers a small meal or a mix of Halloween-themed snacks like roasted pumpkin seeds and low-carb apple cinnamon bars, which your children can help prepare. Sloppy joes or burgers, coleslaw, and peanut butter granola bars are other surefire party dinner hits.
For a lower-sugar punch, mix half apple cider and half sparkling water, and pre-pour to keep portions in check.
For dessert, use Halloween-themed cookie cutters to make wiggly treats from orange, sugar-free gelatin. Consider leaving the gelatin in several large, shallow baking pans, and let the kids cut out their own shapes. You can also serve apple wedges sprinkled with cinnamon. If you prepare these in advance, give them a squeeze of lemon to keep them from turning brown.
After-trick-or-treating
Make a plan. Lots of parents give out non-food items such as stickers and "googly eyed" bouncy balls to acknowledge that most kids can do without the extra sugar and calories typically associated with Halloween. However, you should plan for what to do with the candy that your child with diabetes will inevitably collect.
Use candy wisely. When allowing candy, make sure your child has eaten a meal beforehand to help prevent blood sugar spikes.
Teach your child the joys of sharing. Call your local hospital to see if they have a program for handing out candy to children who can't trick-or-treat themselves. The hospital should have guidelines in place to ensure that only small amounts of candy are shared with any one child, and that candy is only given to those children for whom it is safe to eat.
Take cues from other traditions. Use the Tooth Fairy concept to deal with leftover candy: Let your child choose ten favorites pieces from the candy bowl. Put the rest of the treats in a special place where the "Candy Fairy"—who travels the world protecting kids' teeth—can find it. Then, when your child is away or sleeping, get rid of the candy all at once, and replace it with a small gift or toy.
(Diabetes Care 2017;40)