Japanese Miso Pork Soup
Summary
| | |
| --- | --- |
| Yield | |
| Source | Recipe from Yuko Yanagidaira |
| Prep time | 45 minutes |
| Cooking time | 30 minutes |
| Total time | 1 hour, 15 minutes |
Description
This soup is earthy and delicious. You can substitute other roots and greens in this recipe based on what you have. This recipe was taught in a City Market class on Japanese cooking.
Ingredients
1 tablespoon
ginger, fresh
Instructions
Soak dried shiitake and kombu in 6 cups of water overnight in a soup pot. The next day, slice the shiitakes and chop the kombu into small pieces and put them back in the pot. Bring broth to a simmer and add bonito flakes.
In a frying pan, heat the sesame oil and the canola oil. Fry the burdock, daikon radish, carrot and pork for about five minutes over medium heat. Add it to soup pot along with beech mushrooms. When the root vegetables are tender (about 15 minutes), add scallions, kale and grated ginger to pot. Simmer for a few minutes until greens are cooked. Remove from heat.
Dissolve miso in some of the broth and return to pot. Allow to steep briefly before serving.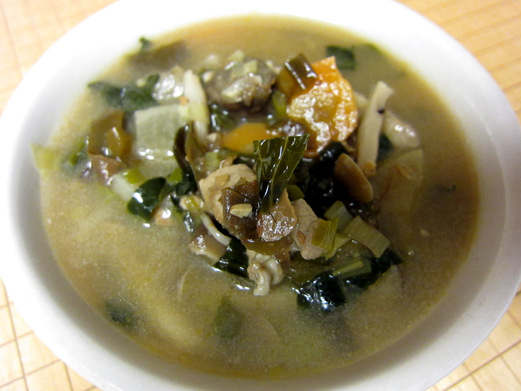 Notes
This recipe uses some unusual ingredients:
Dried shiitakes are mushrooms we sell in produce
Kombu is dried seaweed. We sell it in Bulk near the herbs and spices
Bonito flakes are sold in packages in Aisle 2. Bonito is a type of mackerel fish.
Beech mushrooms are sold fresh in small packages in our Produce Department. There are approximately 1 1/2 cups in a package.