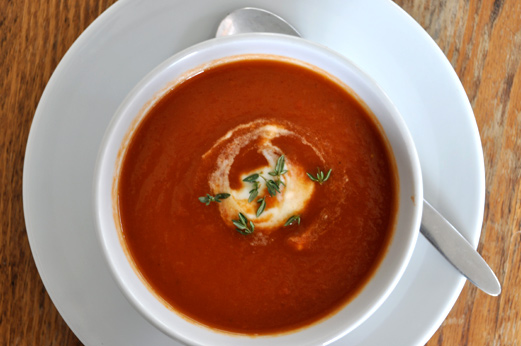 Preheat an oven to 425F.  Open the tomatoes and drain into a colander set over a bowl; reserve the juices. On a large, rimmed baking sheet, combine the drained tomatoes with the onion, olive oil, thyme, salt and chile flakes. Mix everything together with your hands and roast in the oven, tossing once, until the tomatoes start to brown and caramelize, about 35 to 40 minutes.
Meanwhile, in a medium saucepot over medium heat combine the reserved tomato juice with 1 quart of broth; simmer until reduced by one quarter, about 20 to 25 minutes.
Carefully puree the roasted tomatoes with half of the broth mixture in a blender until smooth, adding more of the broth as needed to reach the desired consistency. Adjust the seasoning with more salt and pepper; serve with a dollop of yogurt and a sprinkling of fresh thyme leaves.