City Market is Now Burlington's Best Choice For Seafood!
Submitted by
ttaylor
on Mon, 10/21/2013 - 16:56
Banner Image: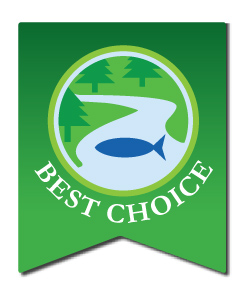 As we're sure you're already aware, City Market offers a diverse range of high quality seafood for every taste and budget, but did you know that many of our products are now verified as being environmentally sustainable too?
This month, City Market launched a brand new sustainable seafood program with the help of FishWise, a non-profit organization focused on the health and recovery of ocean ecosystems. You may have already noticed that some of our seafood items include a new "Best Choice" tag, which identifies seafood that comes from well-managed sources that minimize the environmental impacts of harvesting or farming according to the Monterey Bay Aquarium Seafood Watch program. If you are looking for sustainable seafood, seek out the "Best Choice" tag and know that you are making a responsible choice!
All of the Co-op's Meat & Seafood staff have undertaken a comprehensive new training program that teaches the key concepts of sustainability as they relate to seafood and are now more ready than ever to answer your questions at the seafood counter. While you're there, feel free to take a copy of our new educational materials.
You'll find Low Mercury Cards that contain a list of commonly purchased seafood that's typically low in mercury as well as environmentally preferable. These cards fit neatly into your wallet for easy reference so feel free to take a few to share with friends and family.
Shortly, we'll also offer a new brochure, developed by City Market in conjunction with FishWise, that contains a wealth of information on sustainable seafood issues including a definition of "sustainable", descriptions of how seafood is caught or farmed, and further information on what earns certain seafood a "Best Choice" tag.
Stay tuned for more news about this exciting new program and feel free to stop by our Meat & Seafood Department with any questions!