Fire Cider Controversy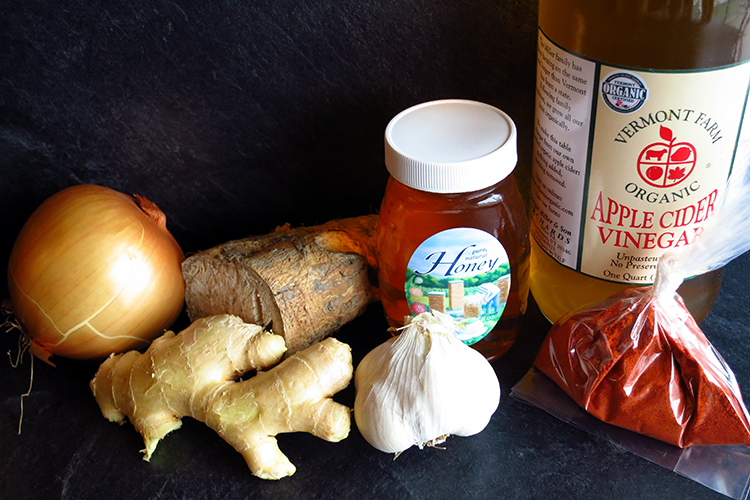 Note: These articles are not meant as a substitute for proper medical advice. Please consult with your medical practitioner before using any type of remedy, herbal or otherwise.
Fire cider is a vinegar infusion of warming herbs, such as ginger, horseradish, garlic and cayenne. It is a common cold and flu remedy, but can be used year round as a circulatory, immune, and digestive tonic. Shire City Herbals, a company out of Pittsfield, Massachusetts, was recently granted the copyright for Fire Cider, a traditional remedy that was neither created nor named by the company. They then issued cease and desist orders to companies that have been selling this product long before Shire City Herbals was created. Rosemary Gladstar has published the recipe for fire cider in several of her books and began teaching people how to make it over 35 years ago. Her teachings led to this remedy being made by thousands of herbalists over several decades.
Why was this copyright  granted, and what does it mean for other traditional remedies? Many herbalists have compared copyrighting fire cider to copyrighting Elderberry Syrup, or in non-herbal terms, pizza. The herbal community has recently mobilized in efforts to attempt to revoke the copyright and protect fire cider and other traditional remedies. We've provided more information below, if you'd like to make your own version of fire cider or review the herbal community's response.
For more Information:
Watch Rosemary Gladstar explain the uses of fire cider and how to make it. If interested in helping protect access to this recipe, join 7000 others by signing the petition here.
Read more about what is being done and find resources here.
Make your own fire cider
Use one of the recipes below or adapt the recipe to match your preferences!
Fire Cider
Recipe from "Winter Recipes for Health & Well Bring" SageMountain.com
1 part garlic, chopped
1 part horseradish, chopped
1 part onions, chopped
½ part fresh ginger, grated
Cayenne to taste (just a few grains will do)
Honey to taste
Apple Cider Vinegar.
See directions for preparing below.
Cyclone Cider Deluxe
From Healing Tonics, By Jeanine Pollak
¼ cup grated ginger root (fresh)
¼ cup chopped onion
¼ cup rosemary leaves (fresh)
1/8 cup sage leaves (fresh)
1/8 cup grated horseradish root (fresh)
4 slices of lemon
4 slices of orange
4-6 cloves of garlic
2-4 cayenne peppers
Apple cider vinegar
Honey or maple syrup to taste
Place everything except for the vinegar and honey in a quart glass jar to fill halfway. Cover by an inch or two with apple cider vinegar. Seal the jar tightly and allow to infuse for 4 weeks. If using a metal lid, place a dish cloth between the jar and lid to prevent corrosion of the lid. Strain the herbs from the vinegar and sweeten it with honey. You may chose to add enough honey or maple syrup to sweeten the cider or enough to make it a syrupy consistency. Take 1-2 tablespoons directly or add to soups, sauces, marinades, and dressings 
Join the Facebook movement on March 9, 2014 here, check out the new website, and download promotional materials.
Read Rosemary Gladstar's official statement
Dear Friends, 
The saga of Fire Cider continues…. 
I wish to thank you all for your ongoing support. It's been amazing to see how many people have mobilized over this issue and who are willing to support free ownership of Fire Cider. To me this issue is larger than just fire cider. However, in this moment it is most important that the name and product "Fire Cider" be returned to its rightful owners, the herbal community, many who have been making, using, and selling Fire Cider longer than Shire City Herbals has been in existence. When I first made Fire Cider, named it such, and taught hundreds of other people how to make it through my books, videos, classes, and conferences, I never imagined for a moment that anyone would think they could claim it as their own, or worse, deny others the right to sell it…
Continue reading here.