Sweet Rutabaga Cake
Submitted by
mklepack
on Mon, 02/07/2011 - 15:46
I baked up some rutabaga oven fries last week. Once thoroughly roasted, I find rutabaga irresistible – the root vegetable is so unbelievably sweet.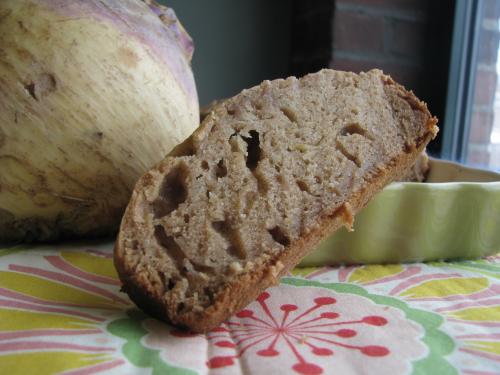 Honey Rutabaga Cake.
These sweet fries got me thinking about the We ♥ Local Food competition which starts Friday. Could rutabaga go in the sweet direction as well as it goes in the savory? Could you combine it with honey or maple syrup and end up with a root vegetable cake along the lines of a carrot cake?
So I googled it and it turns out I'm not the first with this dream. I found many people's stories of old handwritten recipe cards handed down from grandmothers for honey-sweetened rutabaga cakes of all sorts. Some with pineapple, coconut and walnuts, others with zucchini and applesauce.
Wanting the recipe to fit within the February competition rules (when even local zucchini isn't available), I ended up with a hybrid recipe and, an hour later, a moist honey rutabaga cake, drizzled with maple syrup! Yum!
Make sure to drop your local dessert recipe off at City Market between February 11 – 20 for the We ♥ Local Food competition. The top 3 recipes will be sampled at the February 26 Burlington Winter Farmers' Market and the top voted recipe will win a year's supply of maple syrup from Hillsboro Sugarworks*!
* a year's supply of maple syrup is limited to 4 gallons.
Rutabaga Honey Cake
Adapted from Marina Stein
1 1/2 cups all purpose flour
2 tsp ground ginger
1 tsp cinnamon
1 tsp baking powder
½ tsp baking soda
½ tsp sea salt
3/4 cup milk
¼ cup melted butter
1/3 cup honey
1 cup grated raw rutabaga
1/2 cup finely chopped apple
1-2 Tbsp maple syrup
Preheat oven to 350º F and butter a 9"x9" cake pan.
Whisk together flour, spices, salt, baking powder, and baking soda in a medium bowl until light. Using a hand mixer beat the honey and melted butter until smooth. Mix dry ingredients into wet on medium speed until just moistened, then add rutabaga and apple and gently fold in by hand until evenly combined.  Batter will be thick. Spread mixture into prepared pan, smoothing surface with damp fingers or a silicon spatula.
Bake in pre-heated oven for 30 minutes, or until a toothpick comes out clean. Remove from oven, place pan on a wire cooling rack, and drizzle maple syrup evenly over the surface of the warm cake. Let cool 20-30 minutes before slicing.