Last Call for Tomatoes
Submitted by
choman
on Tue, 08/23/2011 - 16:17
Capture those tomatoes while you can!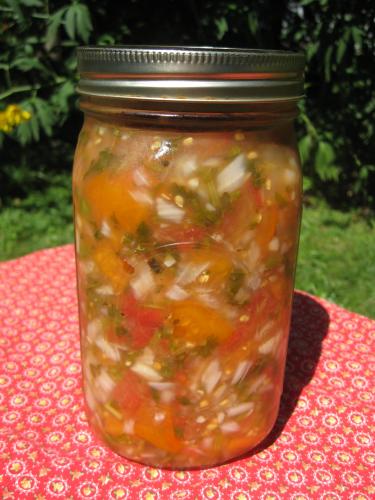 Cultured (lacto-fermented) tomato salsa with local heirloom variety tomatoes
Though late blight is dampening our spirits a little, tomatoes are still ripe and lush for the moment, and cultured tomato salsa is the perfect recipe to make with them. We made this at our class a few weeks ago, and the salsa only gets better with time. The advantage to culturing tomato salsa (which you can do with any recipe, by the way) is that it plays up the natural probiotics in the vegetables and helps preserve it for a longer amount of time – weeks or even months in the fridge!
Cultured Tomato Salsa
You can use this salsa recipe or your favorite salsa recipe, adding 2 Tbs. whey or an additional 1 Tbs. salt.
4 medium tomatoes
1 small white or yellow onion
1 seeded jalapeno, or to taste
2 garlic cloves
1 bunch fresh cilantro
1 tsp. dried oregano
Juice from 2 lemons or 3 limes
1 tsp. sea salt
2 Tbs. whey (or additional 1 Tbs. salt)
Make salsa by dicing the fresh ingredients and adding dried oregano, lemon/lime juice, salt, and whey or additional 1 Tbs. salt. (If you like, you can blanch and peel the skin from the tomatoes for a smoother consistency).
Transfer to a quart-size mason jar. Add a little filtered water if necessary (if you like it more liquid and it's too chunky – be sure to shake to incorporate water). Leave at least 1 inch space at the top of the jar. Cover and keep at room temperature for 2-3 days before transferring to the fridge – watch for a "break" to occur between solids and liquids as it starts to fizz: that's a sign that it's done. Salsa will keep for weeks or months in the fridge and flavors will continue to deepen. (If a little surface scum develops, it can be scraped off.) Makes 1 quart.
Note: If you want to multiply the recipe x4 to make a bigger batch, dice the tomatoes by hand and pulse everything else in the food processor. Fill 2 half-gallon mason jars for 2-3 days, then transfer to smaller jars to refrigerate).